KAMILLA SLIM – slim difference of your style
What did people know about kitchen hoods in middle ages? In those times, people were probably satisfied with natural ventilation. They faced quite different problems. We will not go so far in our discussion. We'd better tell you about today.
Nowadays, the technologies of kitchen hoods production are being constantly improved, and today they have turned into high-tech assistants while remaining the devices that delight the eye with their stylish design. The product of the specialized German brand KRONAsteel is one of the most outstanding representatives of kitchen appliances manufacturers. The quality and reliability of appliances are conditioned by the use of European quality standards.
All the products of the specialized brand undergo several stages of quality control – at modern enterprises, when appliances arrive to Russia and right before the kitchen hoods are shipped to consumers. The warranty term for all KRONA kitchen hoods makes up 2 years.
Reliability, quality, an optimal choice of functions and a wide choice made it possible for brand products to acquire a huge number of supporters and occupy leading positions on the market of ventilation equipment for the kitchen.
One of the brightest brand representatives is the model KRONA Kamilla. In 14 years it surely became a hit of sales on the Russian market thanks to its high reliability and efficiency.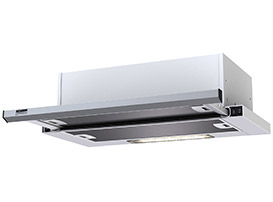 The model range of Kamilla kitchen hoods has recently been replenished with a new series, Kamilla SLIM. Ultra slim design of products instantly attracts the focused attention of may buyers: the width of the front plank is just 17 mm! The sliding panel made in the stainless steel color is so small that it is practically imperceptible. It will wonderfully fit any kitchen interior where there are elements made of this material. This ultra thin integrated kitchen hood will become a graceful supplement for your kitchen interior.
Today integrated Kamilla Slim kitchen hoods have no analogs on the market. Its graceful and laconic design will turn your kitchen into modern technological premises where it will be so pleasant to cook culinary masterpieces. Kamilla Slim – a slim difference of your kitchen style!